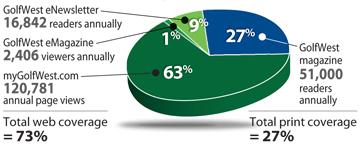 Reach over 191,029 avid golfers with our powerful marketing package
It can be done. Here's how. First of all, you should know that we've done the hard part already. All you need to do, if you want to target OVER 191,029 golfers in Western Canada this season, is choose GolfWest PrinterNet. Yup, we've got reaching golfers down to a fine art after 18 years. Here's how we do it:
We continually update our direct mail database to reach Western Canada's most serious golfers, the ones who "live to golf".
We focus our demographic surveys to measure their buying power.
We host a website that attracts thousands of new prospects every month.
We keep thousands more "in the loop" by sending them exclusive, subscriber-only eNewsletters. In short, our premiere marketing system reaches more Western Canadian golfers by direct mail, subscriber-only e-mail and high-volume web traffic than anyone in our category.
Most important of all: We've made it very easy for you to use these tools to reach new customers. So you can focus on what you do best: keeping them happy and keeping them coming back, year after year.
Check out these benefits:
Access extra web visitors
Your web ads run on rvwest.com, a destination site that attracts over 193,000 page views per year, for free!
More measurable results
Join clients who get an average of 50 inquiries per month during their PrinterNet campaigns, including phone calls and increased web traffic (click-thrus).
Save on PrinterNet packages
Take advantage of substantial savings when you market using GolfWest PrinterNet.
Call to get the full details
The more you learn about the golfers you can reach using GolfWest, the easier it will be to make this your best season ever.
» View our GolfWest magazine website
» Read an electronic version of GolfWest magazine.
GolfWest
At a Glance
Print frequency: Annual
Print Run: 15,000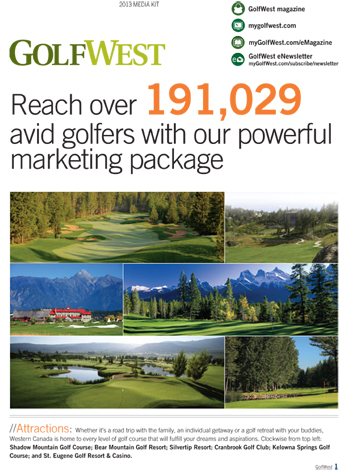 Media Kit Download